Our mission is to assist clinical care teams by optimizing and facilitating operational workflows in order to empower healthcare staff to focus their time on delivering high quality patient care. The TAGNOS workflow orchestration software assists care teams, patients, and their families by orchestrating important but dispersed and tedious aspects of the care delivery process. Our platform brings system data together within healthcare facilities to illuminate, automate, and orchestrate results within operating rooms, emergency departments, and asset management systems. The byproducts of our technology are real-time intelligence and automation that work together to enable hospitals to reduce cost, generate revenue, and empower clinicians with the patient at the center.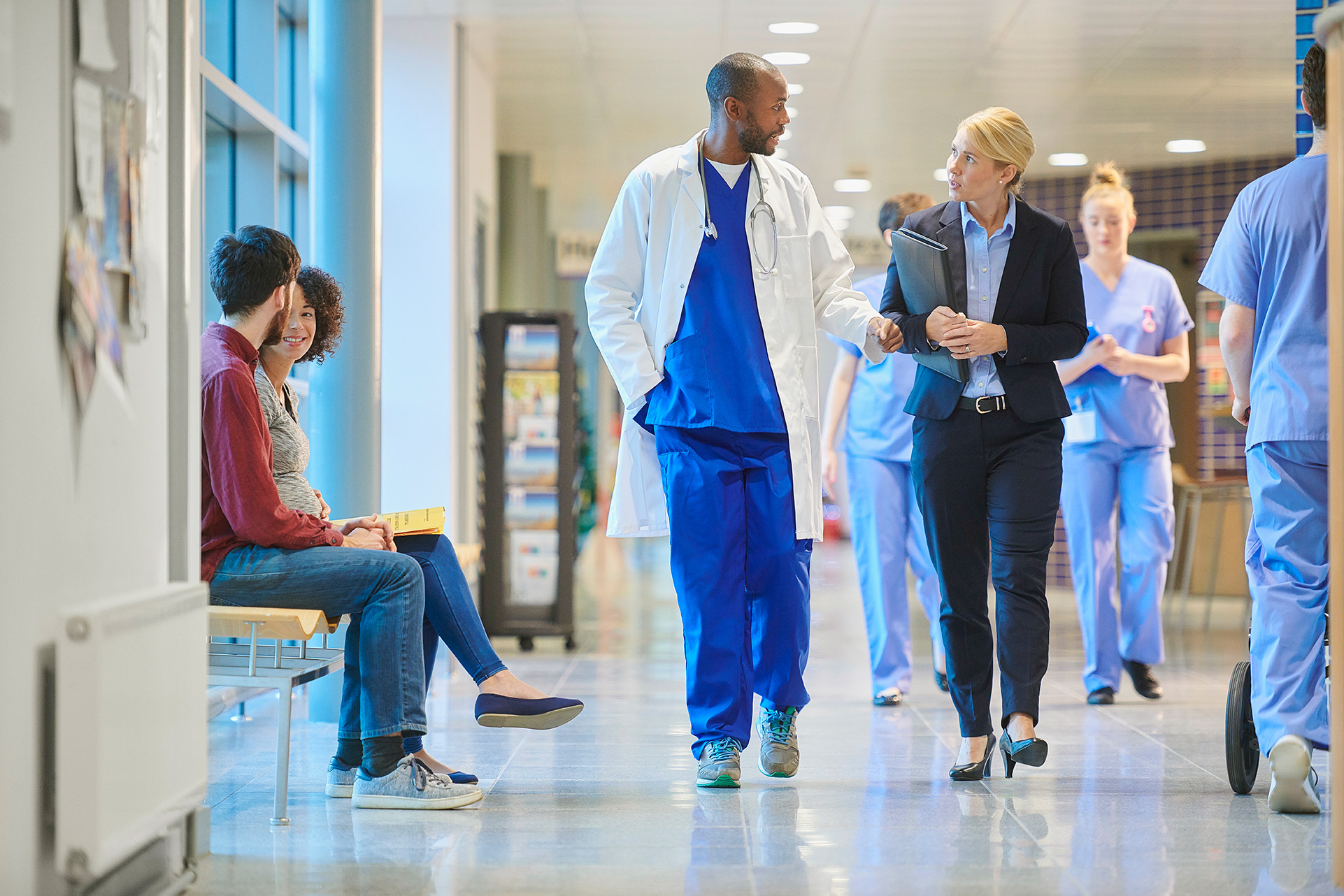 Values
Care
We build streamlined technology that solves real world real time problems for patients, families and healthcare workers. Our focus is to, "Care for the Caring".
Simplicity
With a deep respect for the complicated nature of delivering care within a healthcare organization, we seek simple, lightweight, and customizable solutions to achieve customizable workflow improvements.
Efficiency
Healthcare organizations make significant infrastructure investments. TAGNOS maximizes the return on your investment by orchestrating and enhancing asset utilization to improve your health systems overall performance.
Accountability
The glue that ties commitment to results is accountability. With our visibility and automation enhancements, TAGNOS illuminates your data, automates timely and distracting processes and empowers the orchestration of asset utilization.
Orchestrating TAGNOS' impact on healthcare
As the President and Chief Executive Officer, Sheila is driving innovative healthcare solutions for TAGNOS clients and ultimately, the patients they serve. With 15 years of experience within the healthcare industry, and an extensive background in computer science and data analytics, Sheila has implemented numerous technology solutions in healthcare systems ranging from UCLA Health to Eli Lilly. Above all, Sheila understands that the success of a company hinges upon the cohesiveness of its team and thus, prioritizes orchestrating communication skills and team-building endeavors in all professional engagements.
Sheila finds work-life balance with regular exercise, spending time with family and friends, and playing with her 19-year-old kitten, Priscilla.
Putting customers at the heart of TAGNOS
Erik serves TAGNOS as its Chief Customer Officer. He is responsible for keeping customers at the heart of the TAGNOS mission by leading Sales, Marketing, Customer Success, and Product Strategy initiatives. Erik has a breadth of entrepreneurial experience that includes being a founder, employee, advisor, and investor in a variety of new ventures. Complimenting his entrepreneurial experience, he has also been hired to serve in leadership roles at established businesses ranging from managing functional departments to growing the organization as the CEO. Erik is actively involved in his community and serves in part-time public office. 
When he isn't working, he is cherishing time with his loving family, teaching Taekwon-Do, spending time outside, reading, learning, or simply enjoying life.
Maximizing the Value of the Tagnos Platform
Sheila has a tenacious desire to solve problems and deliver excellence. She uses her diverse healthcare IT skillset and positive attitude to ally with TAGNOS customers. Her focus is helping care providers leverage the TAGNOS workflow solutions. She aims to foster a business-oriented, customer-centric culture that ensures every user benefits from TAGNOS solutions.
Sheila lives in Southeastern Michigan with her husband and her much-loved dog, Nala. To relax, she enjoys being outdoors, sketching, reading, and eating delicious food.
Ensuring successful implementations
Since joining TAGNOS as the Senior Director of Field Operations in 2014, Kris has played a vital role in elevating the company to where it is today. Kris oversees all aspects of client success and fully understands the complex nature of integrating software and hardware infrastructure into the hospital environment. Having worked nearly every position at TAGNOS as one of its first employees, Kris is an integral member of the executive team and has an in-depth knowledge of TAGNOS' ED, OR and Asset Orchestration Solutions. Kris brings a background in healthcare administration and management, with experience running his own healthcare IT consultancy for over two years. However, his most valuable addition to the team is his entrepreneurial mindset that drives him to do what needs to be done to ensure success for TAGNOS and its clients.
Kris balances his often-eclectic to-do list by hiking with his family, playing with his quirky corgi Hudson, or getting shots up at his local basketball court.
Providing a clinical lens to exceed expectations
As one of the company's most recent hires, Khrystal provides TAGNOS with the clinical insight needed to achieve success for its clients. With extensive hands-on experience as a healthcare provider, Khrystal's unique perspective has already proven invaluable for the evolution of TAGNOS' OR, ED, and Asset Orchestration Solutions. Khrystal began her clinical career as a bedside and Utilization Management nurse before taking a position at MedHOK as a RN Product Manager, followed by another two years at AcesoCloud where she oversaw technology implementations in both insurance and hospital settings. At TAGNOS, Khrystal now leverages these past experiences to collaborate with all departments to apply a clinical lens that helps develop user-friendly solutions.
Khrystal believes in an active and healthy lifestyle to balance the rigors of being a clinician and can often be found playing tennis, hiking down a trail, or relaxing to a yoga session.
Ensuring customer success
For over two years, Chris has ensured the success of existing TAGNOS customers while also implementing workflow solutions for new clients. In addition to his work with field operations, Chris oversees activities such as site wellness checks, customer outreach, and composing technical documents. With over a decade of experience implementing and supporting solutions in healthcare technology, Chris' value to the team lies in both his technical skills and laser focus on customer success. As a former employee of IBM, Chris understands the importance of team chemistry and is known for his consistent reliability, patient demeanor and, exceptional communication skills.
During his free time, Chris enjoys video, board, and card games, hanging out at theme parks with his friends, and exploring new places around the world. Chris currently resides in Orange County with his dog, Oscar, and cat, Spontaneous.
Meticulous and Detail-Oriented Accounting and Finance
Throughout her career working with companies in a multitude of industries, Dee has thrived helping to maintain accounting and finances to ensure accuracy in payments and resolution of disputes. Now, as the current Accounting Manager for TAGNOS, Dee empowers the team by organizing A/R and A/P to better manage finances of the company, cleaning-up A/R to collect on past due balances, working with customers to resolve disputes and ensure payments are made on a timely basis, as well as assisting in forecasts and projections to help provide a more accurate outlook of TANOS future.
Dee currently resides in her hometown of Los Angeles, and spends her free time hiking, traveling, watching movies, and dancing to Bollywood music.
The glue that holds the team together
For over a year now, Maura has served as TAGNOS' Office Manager, helping to coordinate and support projects across all departments. Often seen filling various roles as needed, Maura elevates the TAGNOS team with her unmatched organizational skills, customer service experience, and relentlessness to achieve. Maura is known for her unquenchably positive attitude and is passionate about promoting and building strong team chemistry within the work environment. Whether it's hosting virtual wine nights or scheduling team meetings, Maura's value to the team goes far beyond that of a typical office manager.
After traveling and working around the world, Maura now resides in beautiful Southern California. Maura is a lover of animals and owns multiple pets including a golden doodle, Duke, and two short-haired cats, Jack and Sally.
---
Our Partners
We are proud to be partnered with the leading healthcare technology organizations:
---
Join Our Team
If you're looking for a fulfilling career in MedTech, with a company where you
will make a difference in the world, we want to hear from you!