An increasing number of hospitals are implementing facility-wide IT networking that is enabled with Bluetooth Low Energy (BLE), including BLE-based RTLS.
This is an exciting development that is poised to accelerate the adoption of real-time location systems (RTLS) that can be used to track the locations of patients, staff, and assets through hospitals. Real-time location data is highly useful when it comes to optimizing hospital operations, but RTLS technology adoption has been slow and often limited in scope.
Facility-wide BLE-based RTLS will unlock new and highly valuable use cases. In this article, I'll summarize the benefits of RTLS, highlight some of the issues that have limited the rate of RTLS adoption, touch upon some of the RTLS technologies available, illustrate the promise of BLE-based RTLS, dig into why BLE-based RTLS is taking off & what benefits it may bring, and introduce how TAGNOS is integrating with systems today & planning for the future.
Bluetooth Low Energy (BLE)
BLE is a low power wireless communications technology that enables smart BLE enabled devices to communicate with each other. While BLE can be used for a number of purposes, it can also be used to detect the location of a device in relation to another device.
Real Time Location System (RTLS)
Real time location systems are used across industries to locate equipment and people, so workflows can be optimized.
This article will discuss how the advent of BLE based RTLS systems will usher in a disruption in Healthcare RTLS.
Benefits of RTLS
The benefits of deploying a Real Time Location System (RTLS) system within a hospital are clear. Medical equipment can easily be tracked, loss of equipment can be reduced, preventive maintenance can be improved, and recalls can be implemented faster and more reliably. Nurses can easily locate equipment, can call for help using RTLS badges and locate necessary staff, in proximity, to help. Patient delays can be tracked, and the flow of patients can be improved.
At TAGNOS, we have observed excellent benefits even from simply tracking assets, including:
Maintenance & Utilization Overhead Reduction
Equipment & Supply Expenses Reduction
Asset Shrinkage Reduction
A reduction in asset shrinkage (typically by 20%).
A reduction in equipment and supply expenses by maximizing the efficient utilization of all assets (typically by 20%).
A reduction in maintenance and utilization overhead (typically by 5%).
Furthermore, even greater benefits can be unlocked from tracking patients in their journey through various departments such as the operating room and the emergency department.
Slow and limited penetration of RTLS
Although a variety of technologies have been used to provide the RTLS locating and tracking functions, the penetration of solutions is still low. Only a small percentage of hospitals have RTLS implemented, and a number of RTLS implementations do not live up to expectations, causing them to slowly fall by the wayside.
Many legacy RTLS solutions come with tradeoffs that hospitals must negotiate. Some tradeoffs include balancing: technology performance; with the desired use cases & outcomes; with the cost of implementation; with the cost of ongoing maintenance of the sensing hardware; with the cost of ongoing maintenance & replacement of the tags.
Further, many legacy RTLS solutions do not leverage any existing infrastructure in the hospitals that do not already have an RTLS system. Equipment needs to be tagged with the tags appropriate for the chosen RTLS technology. All the sensing devices, if not Wi-Fi, need to be installed for the sole purpose of enabling RTLS functionality. And, of course, all of this infrastructure must be maintained.
While many hospitals are able to achieve a strong return on investment (ROI) from implementing this infrastructure and from balancing these tradeoffs, adoption is highly complex, and the ROI may take years to realize. This has caused RTLS penetration to be slow, and it has also caused RTLS adoption to often not be enterprise- or facility-wide and to instead be targeted at specific use cases within specific departments.
Myriad of RTLS solutions
A number of RTLS solutions have been tested and deployed. Zigbee, Wi-Fi, Infrared (IR), Active RFID, Passive RFID, Ultrasound and other technologies have been implemented to various degrees of success over the years.
Some technologies, such as Zigbee , have been discontinued for RTLS in the healthcare industry over the years. Passive RFID tags require expensive reader installation if widespread tracking is desired throughout the hospital. Currently, IR and Active RFID are the dominant RTLS technologies within the healthcare industry.
Wi-Fi is good for zonally-accurate asset and staff tracking. IR and Active RFID are dependable and work well for room-level accuracy and, when implemented well, can be extremely effective in solving use cases such as quicker room turnovers in the OR and ER, better on time starts and better equipment location.
TAGNOS has implemented Wi-Fi, IR, Active RFID and Passive RFID technology-based solutions for different use cases. Our solutions are hardware agnostic and select the appropriate RTLS technology for the appropriate workflows and use cases. Our platform brings it all together, combining RTLS data with data from other systems (including clinical information within the Electronic Health/Medical Record system).
When integrating RTLS capabilities with other systems such as the EHR/EMR, facility-wide enterprise RTLS implementations, unlock more value than many of the current and legacy RTLS implementations. This is where BLE has started to offer an intriguing future.
The promise of Bluetooth Low Energy (BLE) – Hospital 4.0
An increasing number of hospitals are implementing facility-wide IT networking that is enabled with Bluetooth Low Energy (BLE), including BLE-based RTLS.
The promise of BLE in these hospitals is the same value proposition that Industry 4.0 brings to manufacturing. When equipment, staff, and patients are tracked as part of a facility-wide implementation, holistic solutions can be developed to help with patient flow, better care, better outcomes, and higher patient satisfaction.
When location information is merged with clinical data, workflows such as the "patient discharge" process can be better orchestrated. For example, the typical patient discharge includes the patient receiving medications from the pharmacy, a transporter with a wheelchair or trolley retrieving the patient, a nurse printing discharge instructions for the patient, and environmental services turning over the recently-unoccupied room to prepare for the next patient. All of this can be orchestrated by automating and streamlining the processes by leveraging accurate location data.
With facility-wide RTLS, all of the signals from this process can be gleaned from location information such as the delivery of the medicine, to tracking the wheelchairs, tracking a BLE-enabled printer and finally signaling that the patient is at the discharge area thereby indicating that the room is ready to be prepped for the next patient.
A lot of new buildings will have location enabled networking
Many RTLS projects do not take off because of the need for additional hardware. However, newer IT networks from Cisco, Juniper (Mist), Aruba and other vendors have inbuilt location capabilities enabled by BLE.
Below is a video that features Cisco DNA Spaces.
Below is a video that features Juniper's Mist.
Coupled with increasing availability of compatible BLE tags that can be attached to equipment or people that are, budget related barriers to entry (initial hardware costs) are much lower for RTLS implementations, making them considerably easier to get off the ground.
BLE accuracy with less infrastructure
BLE is already achieving parity with W-Fi-based location in terms of accuracy and precision. The primary mode of calculating location involves leveraging Received Signal Strength Indicator (RSSI) values in both the BLE and Wi-Fi use cases. When a tag is close to a BLE beacon, the RSSI sensitivity is large, so the distance can be measured more accurately. However, as the distance between the tag and the sensor increases, the sensitivity decreases. This causes the location accuracy is stay relatively low, with a possible error of 5 meters in both the BLE and Wi-Fi cases.
However, with new BLE innovations, new components such as RDF (Radio Direction Finding) can be leveraged to enhance the location capabilities. The accuracy with components and methods such as RDF can be as accurate as 1-2 meters which could provide room level accuracy.
Room level sensors
Currently BLE will need to rely on room level sensors to provide room-level accuracy for tracking. Room level sensors are available from vendors such as Zebra and Kontakt.io that can enhance the accuracy of the location services. When paired with facility-wide BLE available through the networking infrastructure, this solution can now be used for patient tracking (which can help with things such as accelerating OR room turnover).
Below is a video that features Kontakt.io's Nano Tag.
Proximity
One of the key advantages of BLE is that it would not be as limited in usage and availability as Wi-Fi based coverage. In addition, the BLE devices will be able to communicate with the network and with each other. BLE-enabled devices are easily added to a BLE-enabled network to augment location accuracy. For example, beacons and other devices can help improve accuracy.
​Another advantage is BLE tags have the potential to consume less power. BLE was purpose-built for this as a wireless standard, hence the Bluetooth Low Energy name.
These advantages can provide unique solutions such as detection of proximity. Proximity can be used for solutions such as contact tracing, staff interaction heatmaps and location of nearby BLE devices such as printers. In addition, capable BLE apps can also act as data collection points to place BLE tags in certain areas. Two examples of unique solutions are:
If a person with a BLE-enabled mobile app walks into a room and picks up a BLE beacon on a piece of equipment tucked in a cabinet and not visible to other sensors, the BLE app can now work as an additional sensor to transmit the location of the tag in the cabinet.
If a nurse needs to print out discharge instructions for a patient, the nearest BLE printer can be easily located.
Tags
With the open standards of BLE, it is increasingly possible to gain access to a wide variety of BLE tags in various form factors. The tags can have a longer battery life than traditional Wi-Fi based tags and can come in new form factors. More and more vendors will be developing more and more tags as the RTLS infrastructure barrier comes down.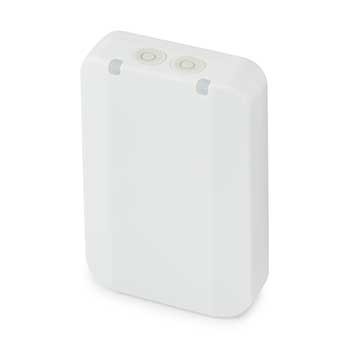 Leverage phones and laptops as BLE tags
Even a regular phone will be capable of running a BLE-enabled app so that it can double as a tag. Hospital issued phones can essentially be used as location tags as well, meaning that staff interactions could easily be measured through their handheld devices.
Furthermore, a significant number of IT-owned laptops can be turned into BLE tags using a simple plug-in which will immediately enable location sensing on the laptops with no additional requirement for hardware.
BLE will continue to gain market share and could replace other location systems
The multi-faceted applications of BLE are positioned to outgrow the adoption of Wi-Fi- and Active RFID-based location systems. These BLE-based RTLS capabilities will likely become increasingly prevalent in healthcare and other smart building settings very soon, if for no other reason than upgraded and new networking infrastructure is introducing the capability at a marginal cost whether or not facilities choose to use it.
Cisco DNA Spaces, Juniper Mist
Cisco DNA Spaces and Juniper Mist are leading the BLE revolution with cutting-edge cloud-based platforms. The platforms enable hospital networks to communicate directly with the cloud deployments and send location data safely and securely to a centralized location. Authorized vendors can get access to the data directly once the hospital authorizes the vendors app and location data can be sent to the vendor with no other interfaces being needed.
For more on CISCO DNA Spaces click here.
Zebra, Kontakt.io
Once a hospital implements a BLE location enabled network, they will have a wide variety of tags to choose from. Vendors such as Zebra and Kontakt.io are bringing a variety of BLE tags into the market. These tags could be purpose-built for locating equipment and people.
For more on Kontakt click here.
Tagnos integration with Cisco DNA Spaces and Zebra Location Services
TAGNOS is a hardware-agnostic and RTLS-agnostic solution. Our workflow orchestration products integrate with all types of RTLS hardware and systems. Our solutions are integrated and work seamlessly with solutions such as Cisco DNA Spaces and Zebra Location Services and we support RTLS data from multiple hardware vendors such as Cisco, Juniper, Zebra, and Kontakt.io. This makes implementing and integrating with facility-wide BLE-based RTLS a reality now.
Now is the time to leverage facility-wide BLE-based RTLS for holistic workflows
Through TAGNOS Connect, our workflow solutions ingest data from both clinical & non-clinical IT applications and from both physical & virtual IT infrastructure. We perform real-time analytics to interpret all data, we apply artificial intelligence (AI) to develop workflow insights, and finally we connect with user-facing systems such as the EHR and mobile devices to communicate workflow insights to operators and clinicians at the edge.

Our solutions and tools such as dashboards, automated communications, and predictions, are purpose built to optimize operations in a variety of hospital departments from the operating room to the emergency department to biomed and beyond.
Increasingly, we are seeing opportunities for cross-departmental, holistic workflow optimization that requires facility-wide RTLS. These include use cases such as orchestrating transfers & discharges, integrating asset tracking with other departmental workflows (e.g., integrating sterile supply tracking with OR use cases), and more. We believe now is the time to double-down on integrating with BLE-enabled solutions.
Empower Care Providers
We illuminate insights, automate operational tasks, and orchestrate workflows to assist healthcare workers to produce the highest level of patient care.