Treat More Patients
TAGNOS ED Orchestration enables streamlined emergency care by providing real time situational awareness and data-driven performance insights. Specifically tailored for the emergency department, ED Orchestration is designed to help you decrease left without being seen (LWBS) cases, improve interdepartmental communication, and accelerate time to treatment.
---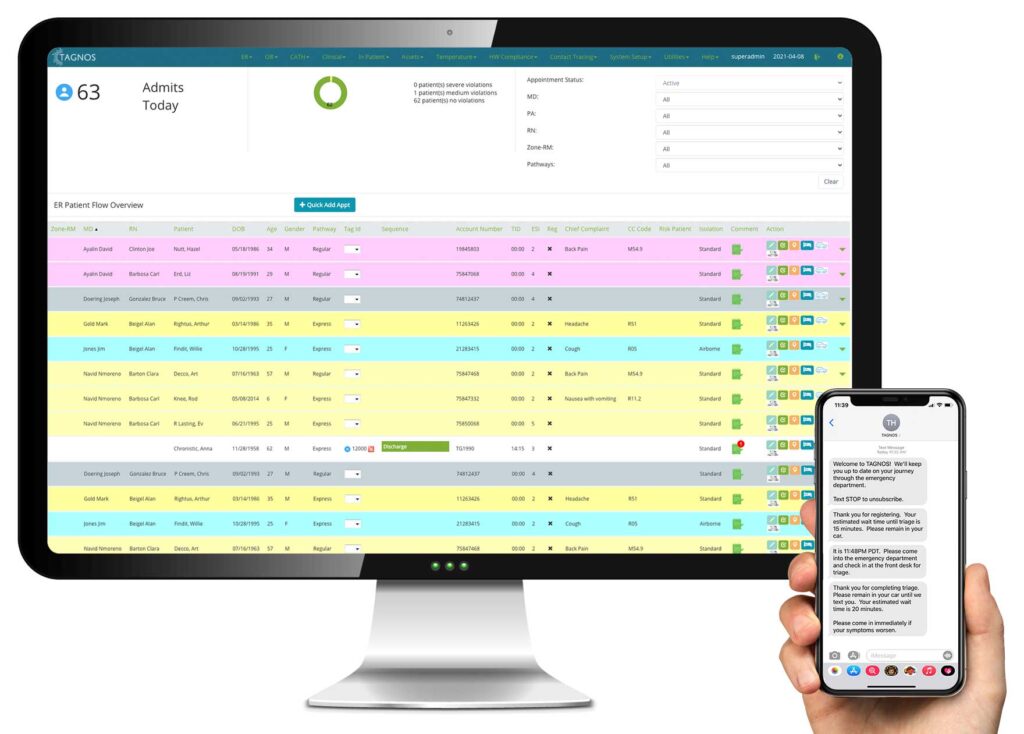 ED ORCHESTRATION
Experience Illumination
TAGNOS ED Orchestration automates inter-departmental communication and improves patient satisfaction and throughput. Gain real-time insights to your emergency department by illuminating left without being seen (LWBS) rates, time-to-treatment, and length of stay.
ED ORCHESTRATION
Simplify Communications
Empower your clinical teams with real time situational awareness, streamlined notifications, and automated data entry. TAGNOS ED Orchestration allows you to interface with existing healthcare and data systems, including EHR/EMR systems, real-time location systems (RTLS), and mobile phones to coordinate efficient emergency care.
ED ORCHESTRATION
Improve Accountability
Identify process improvement opportunities with comprehensive, customizable KPI-focused reports. Our ED Orchestration solution is empowering world-class emergency departments with increased patient satisfaction and improved Press Ganey scores.
ED Orchestration Modules
TAGNOS ED Orchestration modules offer real-time insights for streamlined emergency care.
TAGNOS' ED Workflow Optimization boosts throughput & satisfaction with real-time insights, ensuring efficient turnover, optimal scheduling, and superior patient care.
Our ED Planning module enhances workflows, increasing throughput & satisfaction via effective staff modeling and real-time insights for optimal patient care.
---
ED Orchestration Results
Our customers have used the TAGNOS ED Orchestration solution to achieve performance improvements, including:
---
Empower Care Providers
See how our ED Orchestration solution can illuminate insights, automate operational tasks, and orchestrate workflows to facilitate a more efficient satisfactory patient experience.